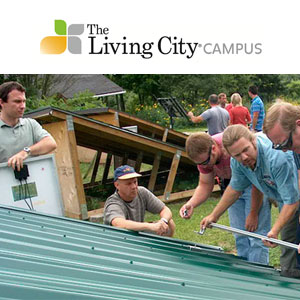 The Living City CAMPUS
GPS Consortium Member
BACKGROUND
Toronto and Region Conservation (TRCA) is one of the largest environmental organizations in Canada with 600-plus employees and managing more than 40,000 hectares of property and nine watersheds in the Greater Toronto Area (GTA).
At TRCA we see every day how climate change affects all aspects of our lives – from the food we eat to the homes we live in. To assist with the reduction of greenhouse gas pollution and help move to a prosperous low-carbon economy, TRCA challenges itself and its partners to create a "Living City."
VISION
The vision of the Living City: to transform the GTA into one of the most sustainable, livable city regions in the world, where human settlement can flourish forever as part of nature's beauty and diversity.
KEY COMPONENT
A key component of the strategy for advancing the Living City vision was the development of an innovative centre for demonstration, research, and education called The Living City Campus.
Located at the Kortright Centre for Conservation in Vaughan, Ontario, The Living City Campus is Canada's largest environmental and renewable energy education and demonstration centre, welcoming approximately 80,000 visitors per year.
CONTACT
Phone: Not Listed
Email: TheCampus@trca.on.ca