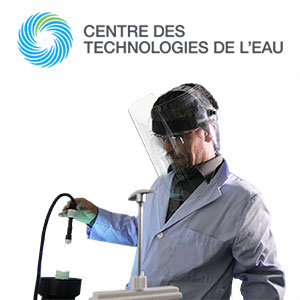 Centre Des Technologies de L'eau
GPS Consortium Member
---
Are you looking to improve a process or do you need advice in carrying out a project? CTE could be an invaluable asset in every step of your journey.
Whether in the development of a financing plan, applied research, prototyping or training your staff, the knowledge and know-how of our team will make all the difference in achieving your goals.
The applied research services of the CTE have an experienced team in water management and treatment, able to contribute to the improvement of the processes in force at the customers. Thanks to these state-of-the-art infrastructures, the CTE can thus create all kinds of technology related to the needy processes of water. All the laboratories, be they those of the Cégep or those of the South Shore Wastewater Treatment Center, allow CTE technicians to manufacture new technologies or develop old processes to meet the needs presented.
In addition to scientific knowledge, CTE staff have technical skills that enable them to make prototypes in the laboratory themselves. These skills are real assets for the CTE because all the work can be done internally, without the need for external services.
Contact Us
Administration
696 Sainte-Croix Ave
Montreal, QC, Canada
H4L 3Y2
Phone:  514 747-2782
Email: info@cteau.com