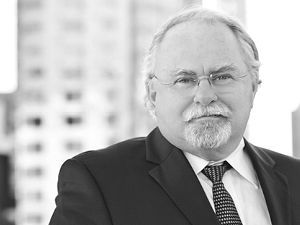 John Wiebe
Executive Chairman
John established the GLOBE Foundation in 1993, which serves as the parent organization of GLOBE Performance Solutions. Our in-house expert on environmental business and the application of sustainability principles to business ventures, he was recognized in 2011 as one of Canada's Clean16, naming him one of 16 individuals who has done the most to advance the cause of sustainability and clean capitalism in Canada.
John has managed projects and advised governments and corporations in all parts of the world for the past 30 years. Until May of 2005 he was also the President & CEO of the Asia Pacific Foundation of Canada and until April of 2007 was Chairman of the Board of the Canadian Education Centre Network and Global Schools Inc. He has been a senior executive with the Government of Canada and served on the National Roundtable on Environment and the Economy where he chaired the Capital Markets taskforce. He is a past Chair of the Vancouver Economic Development Commission and a past Director of the International Centre for Sustainable Cities, the McCrae Institute, Desert Gold Corporation, Boltons Capital Corp. Tonbridge Power Corp. and on the Advisory Boards of the Simon Fraser University Business School, the Banff School of Management and the East-West Center.
He currently serves as the Chairman of the Green Table Network and as a Director of West Mountain Capital Corp., Advantage BC, and Eco Canada, and is Chairman of the Advisory Board of Ecosystem Restoration Associates Ltd. Though his travel commitments don't leave much spare time, he enjoys spending whatever's left with friends and colleagues on the golf course.
Direct Contact:
Phone: +1-604-695-5001
Email: john.wiebe@globeperformance.com