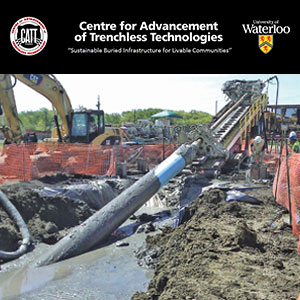 Centre for Advancement of Trenchless Technologies
GPS Consortium Member
---
The University of Waterloo, City of Waterloo, National Research Council of Canada and 25 founding members from municipalities, industrial equipment, and material suppliers, contractors, consultants, and gas industry provided initial funding and support for the formation of CATT.
During the last 10 years, CATT has achieved significant recognition as an international leader in trenchless technology education and research. This success has been due to membership support and participation.
Without CATT members, we would not have been able to meet our mandate for trenchless technologies promotion and education through events such as workshops, seminars, courses, training of highly qualified personnel, etc. Since CATT does not receive government funding it relies on industry and member support to meet its mandate.
Contacting CATT
Dr. Mark Knight, Executive Director
Phone: (519) 888-4567, ext. 36919
Fax: (519) 746-6556
E-mail: maknight@uwaterloo.ca
Dr. Rizwan Younis, Research Associate
Technical Director, Education Program for Civil Infrastructure Professionals
Phone: (519) 888-4567, ext 36189
Fax: (519) 746-6556
E-mail: ryounis@uwaterloo.ca
Jonathan Pearce, Outreach and Programs Coordinator
Phone: (519) 888-4770
C: (519) 573-5634