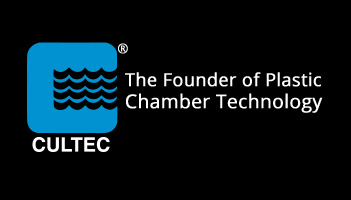 CULTEC Separator™ Row
Cultec Separator™ Row
CULTEC Separator™ Row Water Quality System
ABOUT
CULTEC's Separator™ Row is an inexpensive means of removing Total Suspended Solids from the CULTEC chamber system, as well as providing easier access for inspection and maintenance.
The Separator Row is designed to capture the First Flush of a rain event and is typically included as part of the "Treatment Train" for water quality. The CULTEC Separator Row is a row of CULTEC Contactor or Recharger Chambers that are surrounded on all sides by filter fabric. Two layers of CULTEC No. 66 Woven Geotextile are placed between the clean foundation stone and the chamber feet. The chambers are then completely wrapped with CULTEC No. 410 non-woven geotextile. This configuration is designed to trap any sediment and/or debris that may pass through the upstream water-quality structures and into the chamber system.
A manhole is typically located adjacent to the separator row for ease of inspection and maintenance. This manhole is placed upstream of the system and can include a high-flow bypass pipe to pass peak-flows onto adjacent rows of chambers. The upstream manhole is designed with a sump to trap heavier sediment and allow for proper cleaning of the Separator Row. A JetVac process with a high-pressure water nozzle is introduced down the Separator Row via the access manhole to clean all sediment and debris from the Separator Row.
Captured pollutants are flushed into the sumped access manhole for vacuuming, and the process is repeated until the Separator Row is completely free of sediment and debris.
CONTACT
CULTEC's Separator™ Row
CULTEC, Inc.
P.O. Box 280
878 Federal Road
Brookfield, Connecticut 06804 USA
www.cultec.com
For general information on our other products and services,
For technical support,